NEWS28-05-2019 by: Trịnh Vũ Khoa
The foundation ceremony of agricultural product warehouse and announcement of Cailan Logtitics establishment decision
On February 21st 2012, Vietnam ocean shipping agency (VOSA Quang ninh) officially opened the Agricultural Product Warehouse and announced the decision to establish Cai Lan Logistics Center - VOSA Quang Ninh.

This is an event ahead of the 2012 Investment Promotion Conference held in Quang Ninh
In recent years, the agricultural product trading market has developed strongly in Vietnam. According to the Department of Livestock Production (Ministry of Agriculture and Rural Development), animal feed materials imported of in 2011 was increased about 5% in comparision with year of 2010 with the number of 8.2 million tons, worth 3.3 billion USD. In the south, Phu My Port has built a series of specialized warehouses for storing these agricultural products but this is limitation in the North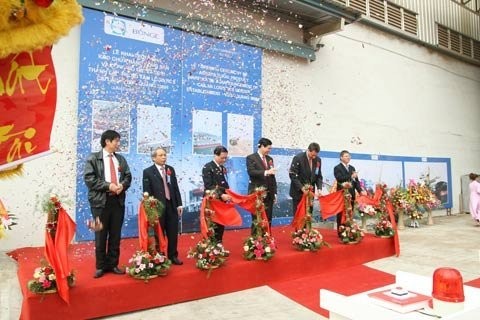 VOSA's Cai Lan Warehouse Project is approved by Quang Ninh People's Committee with a total area of 72261m2 in 2004. Up to now, most of the construction items have been invested and exploited to gain an considerable economically efficiency.
In addition to investment in the construction of the project, VOSA has been actively seeking for potential domestic and foreign partners to co-operate in business. With its brand and experience, along with the quality of service and advantages of facilities, VOSA has succeeded in inviting partners who are big economic corporations to cooperate and exploit effectively. The warehouse of agricultural products is one of the results of that success, as a result of the cooperation between VOSA and BUNGE Group - USA, one of the leading economic corporations in the field of agricultural business. After a period of negotiation, the two sides signed a contract to build agricultural warehouses from September 30, 2009.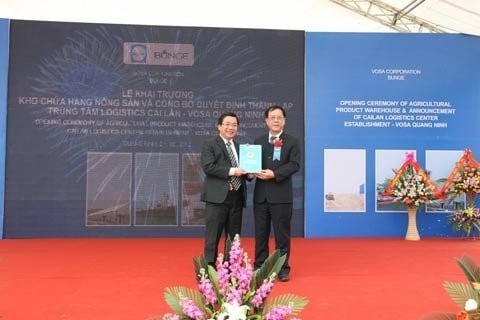 On July 20, 2010 the project was officially started and on May 7, 2011 the construction was completed, ensuring high requirements on quality and progress. Warehouse area reaches 6400m2 with modern systems of auxiliary engineering works. The building is available to go into operation. After completion, a large amount of agricultural products of BUNGE Group has been exploited and circulated through warehouses, bringing high business efficiency for both partners.
VOSA has a solid belief that in the near future, Vosa Cai Lan Warehouse project of VOSA will become an international logistics center, bringing high economic efficiency to the enterprise, tightening the cooperation between VOSA and BUNGE, and contribute to the economic development of Quang Ninh province.