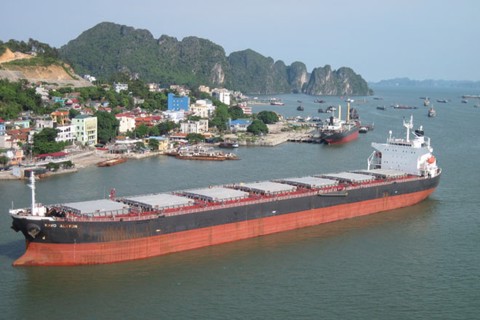 NEWS28-05-2019 by: Trịnh Vũ Khoa
Vosa Quang Ninh: Reliable partner in international economic integration
Each staff of VOSA Quang Ninh is always proud of being a member of VOSA Vietnam roof. At VOSA Quang Ninh, the creativity and dedication of each employee and the right direction of the leadership have brought successes, outstanding development since the establishment, that brings VOSA Quang Ninh become a multi- business enterprise, gradually affirming its prestige and leading position in the country, region and the international arena.

"With its prestige and brand, experiencing through difficulties since establishment, especially in the context the economy has many difficulties as current, but VOSA Quang Ninh is always proud of steady growth with volume of next year is always higher than itself of next year" . That is the affirmation of Mr. Trinh Vu Khoa - Director of VOSA Quang Ninh. Currently VOSA Quang Ninh is providing agency and shipping services for most of the major shipping companies in the world, becoming the leading brand of Vietnam in the field of shipping agency and service supply business. The major shipping companies in the world are now partners of Quang Ninh VOSA such as NYK, KLINE, Daichi First Ship, MSC, China Shipping, Cosco .... In the commercial field, VOSA Quang Ninh is one of the enterprises that have import and export turnover ranks firstly in the country, reaching over 500 million USD / year.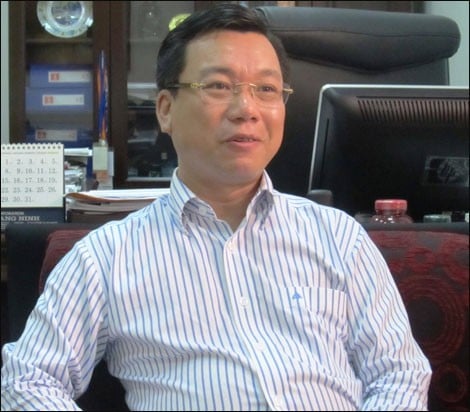 Mr. Trinh Vu Khoa - Director of VOSA Quang Ninh
VOSA Quang Ninh is always proud of freight forwarding agent and chartering service, although it has just been in operation for 10 years, but with the synchronous investment, professional working manner, VOSA Quang Ninh has quickly affirmed the prestige and quality of service. VOSA Quang Ninh was honored to carry out many international and domestic freight forwarding packages for major and key projects of the country such as Bai Chay bridge project, My Dinh national airport, Cai Lan port, Phu My-Vung Tau thermal power plant, Son Dong-Bac Giang thermal power plant, Ban Chat- Lai Chau hydropower ...
In the process of developing to become a multi-industry enterprise, VOSA Quang Ninh is promoting business of warehousing and logistics services. To successfully implement that strategy, VOSA Quang Ninh has invested in construction of facilities, especially warehouse storage system. Currently, VOSA Quang Ninh has owned 50,000m2 of general cargo yard, 20,000m2 of specialized goods storage, is adjacent to Cai Lan seaport and has been licensed by the General Department of Customs to become a place customs clearance points in the only inland area at Cai Lan port area. So far, goods of some major economic groups have filled the entire area of the existing warehouse system. In the near future, VOSA Quang Ninh will continue to invest more aggressively in expanding the warehouse system, machinery and synchronous equipment accompanying, ready to receive a large volume of import and export goods. through seaports in the region.

Besides, VOSA Quang Ninh is implementing business in the tourism sector, focusing on tourism services on Ha Long and Bai Tu Long bays by yacht. This is a high-class and new tourist service that firstly appeared in Ha Long.
People are the foundation for VOSA's success
"Dynamic, creative, enthusiastic - Considering the loss of customers is our own loss" that is the working guiline of each VOSA Quang Ninh staff during the process of formation and development to bring success like today. With this success, human factor always plays a key role. Therefore, from the beginning, the Board of Directors always determined to build a team of enthusiastic and devoted staff, who have a style of behavioral culture, professional competence ... etc. Currently, VOSA Quang Ninh with 145 officials and employees are dynamic and young people, capable of proficiently using many foreign languages ​​such as English, Chinese ... etc, understanding the national convention, understanding economy, customs, practices of customer's countries, have sufficient capacity and confidence to international markets to capture market developments, find customers.
Mr. Khoa happily added, "Up to now, there are even 3 generations of families who have devoted and worked at VOSA, which is something that VOSA is always proud of when talking about themselves, those contributions have created 1 a solid foundation for VOSA's development to this day ".
With the integration trend, VOSA Quang Ninh has been constantly rising, affirming the bravery and ability of a multi-business development enterprise on the basis of traditional and highly competitive industries in the region and in the world. With the right direction and the desire to development of officials and employees, VOSA Quang Ninh will become a multi-sectoral enterprise growing strong in the country and the region, firmly in international economic integration.